CURLS Cashmere + Caviar Collection comes to Abilene!
When CURLS Comes to Town, it's FIYA!
What do you know thus far about CURLS Cashmere + Caviar Collection for your naturally curly hair?  Well, the ladies and gentlemen that attended the Secret Curl Society Weekend in Abilene, Texas, know more than they ever did before!  In our workshop session, we learned that:
Winter hair care should change to accommodate the cold, dry environment and should include more hydrating products like CURLS and should include protective styling to conceal your delicate ends. Tips were given by local stylist Shanay Thompson.
Keeping track of your hair can help reach your hair goals!  Check out Secret Curl Society's Hair Growth Journal.
A beautiful head wrap is a great way to protective style and STILL look cute!  Full demonstration was done by local stylist AK (Amy)!
Explore new styles after accepting your hair type.  Our favorite curliest @TiffofAllTrades was there to do a LIVE hair tutorial segment using CURLS Cashmere + Caviar Collection.  It was EPIC and her hair was sooooo cute!
Be sure to keep up with @SecretCurlSociety by following on Instagram and follow @CURLS to know the latest and greatest in hair care products for naturals.
Get your Cashmere + Caviar Collection from your local Sally Beauty Supply or Target Store today!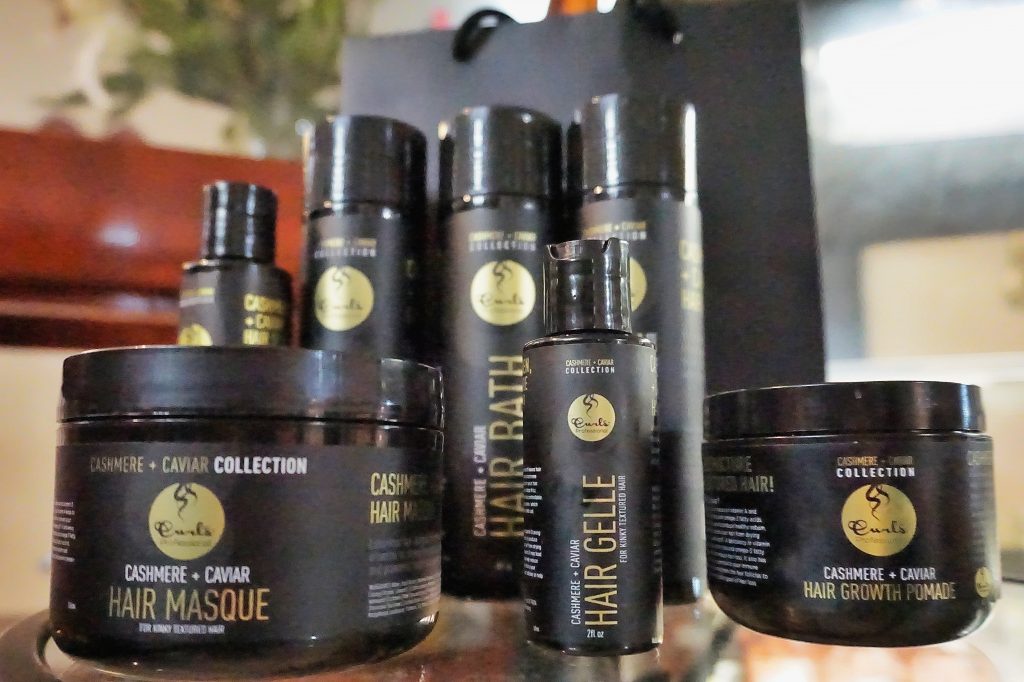 Step 1: Cashmere and Caviar – Hair Bath
Our luxurious hair bath gently cleanses with active charcoal as it naturally conditions with cashmere and caviar extract. It leaves hair looking and feeling silky smooth, cashmere soft. You will love this black bath that goes on black and rinses clear.  It delivers distinctly clean tresses.  Users needed, focusing on your scalp and then smoothing down the hair shaft.
Step 2: Cashmere and Caviar – Hair Masque
Luxurious Hair Masque infused with Cashmere and Caviar Extract, antioxidants and vitamins to strengthen, and smooth your hair.  It also helps repair any scalp damage and promotes faster hair growth and of course a healthier scalp. Use this EVERY TIME you cleanse our hair to strengthen, restore and add lasting sheen to your tresses.  
Step 3: Cashmere and Caviar – Hair Silk
Drench your hair in Cashmere. Soften, and moisturize dry, damaged tresses leaving them healthy and manageable with bounce and shine.  You'll find this to be the perfect detangle and refreshing cream.  This formulated leave in conditioner will hydrate, silken and strengthen your hair.  This is a MUST!
Step 4: Cashmere and Caviar – Hair Gelle
Style while you reconstruct and strengthen your stressed and damaged hair.  Light hold with added sheen and definition.  Use this for all of your kinky hair styles including the wash and go, twists, styles outs, and  great for bantu knots.  It helps you achieve the best style with a light, soft hold.
Step 5: Cashmere and Caviar – Hair Serum
Formulated with Cashmere and Caviar Extract,  this growth enhancing hair strengthening treatment is THE solution for increasing hair growth and creating unbelievable sheen. Use as a finisher to your style or add this serum to ANY step along the hair care regime to add a boost of hydration and softening.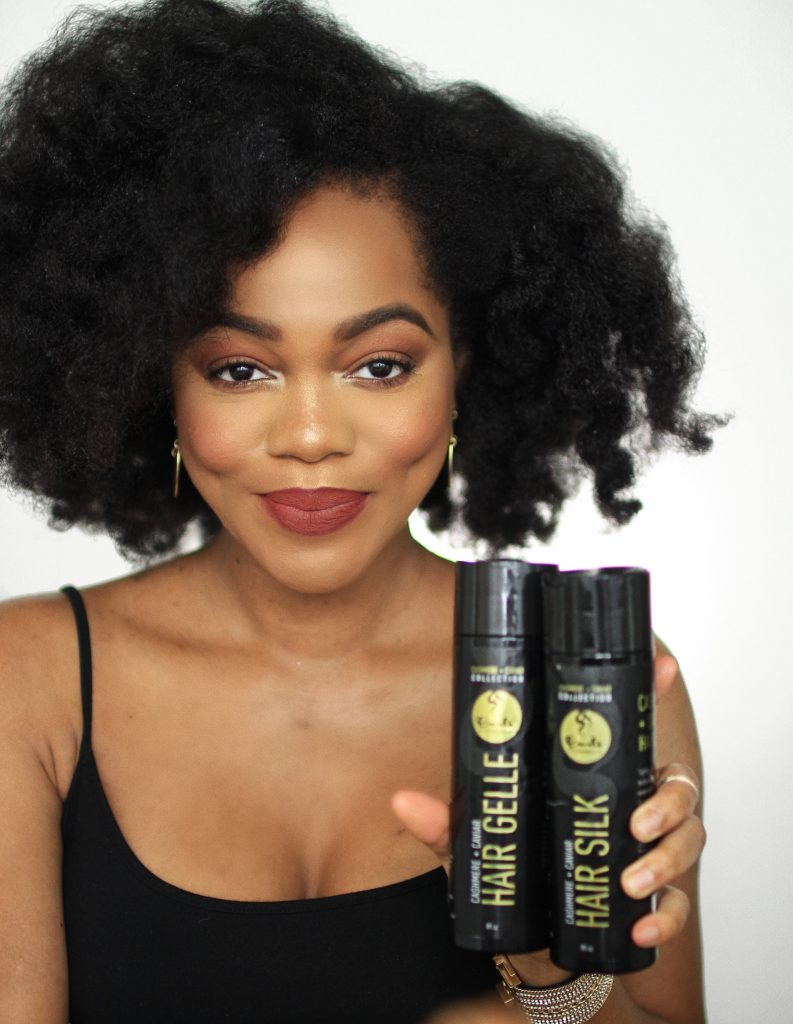 Why Cashmere + Caviar?
Because women are looking for a premium collection with high quality ingredients that suits their needs and personal style.  Check out the amazing benefits of this collection
Benefits of Certified Organic Hydrolyzed Cashmere
Composed primarily of the most luxurious protein keratin broken down into the smallest molecular level to improve the condition of hair, via smoothing the cuticle, imparting intense shine and manageability.  Expect to see luxuriously soft, supple, glistening coils. Cashmere, the fabric known for its smooth texture, will absolutely achieve the same effect on your hair.
Benefits of Caviar
Rich in vitamin A, B and high in antioxidants and Omega-3 and Omega-6 this extract enhances moisture and naturally repairs and restores textured strands while boosting Sebum production, and preventing hair loss ( Zinc).  Plus the UVA and UVB within protect against damage. This rich hydrating and restoring ingredient improves the overall quality of the hair while enhancing health and shine.
Benefits of Champagne Fruit
The antioxidants in Champagne Fruit Extract are 20 to 50 times more powerful than vitamin C and vitamin E resulting in protection from damage, eliminating free radicals and purifying the hair and scalp.   Also known for improving elasticity and manageability.
Benefits of Active Charcoal
Found in the Cashmere and Caviar Hair Bath.  Active Charcoal is an all natural benefit to the scalp and hair as it gently removes excess weight, build up and oil and relieves toxins from your scalp.  The effects are effective cleansing while purifying the scalp and hair, creating natural volume and allowing your hair to better absorb the ingredients in your conditioning treatment.  
Available NOW at Sally Beauty Supply and Target Stores.
Click HERE to find a store near you!